Overview
Ginza Bar Hopping is a service that Ginza night experience at high-class nightclubs, "Dohan*" & "After". Dinner is given at the highest ranked star restaurants, and you can enjoy "karaoke" together with the nightclub hostess. Many high-class nightclubs in Ginza refuse first-time customers, saying that customers without introduction from somebody are not allowed to enter their facilities. In short, it is a valuable experience!!!!!!!
It is possible to coordinate the best night life in Tokyo after conferences, academic societies and business negotiations.
*Douhan (Pre-company) : Guest can meet a nightclub hostess in the different place (usually restaurant) before entering facilities.
Flow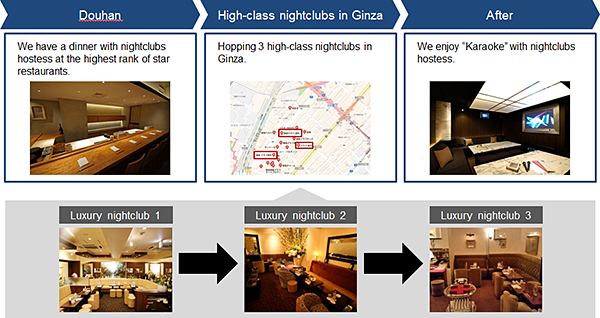 Case
【Case 1】Travel-related business owners
For a company's wealthy customer, I want to expand an experience-based trip product to Japan. I really experience and want to check what high-class nightclubs of Ginza is, whether it can be added to a company's product lineup when it comes to a trip in Japan.
【Case 2】Conferences, Academic societies and Business negotiations.
1. After a conference, I want to deepen the interchange among participated business owners in a high-class nightclubs of Ginza.
2. After academic societies, I want to experience a Japanese high-class nightclubs with participants.
3. I want to invite the overseas new business partner whom I met in business negotiations to a high-class nightclubs of Ginza.
Price
*This case includes Dohan (star restaurant), Hopping 3 high-class nightclubs, After (Karaoke).
*We might not be able to meet your "Dohan" request and "High-class nightclubs" request.
*If you changes during the experience, you'll pay additional fee.
*15% of the total amount as service fee for guides are needed.
Contact
Please contacut us about "Ginza Bar Hopping" from our contact page below.